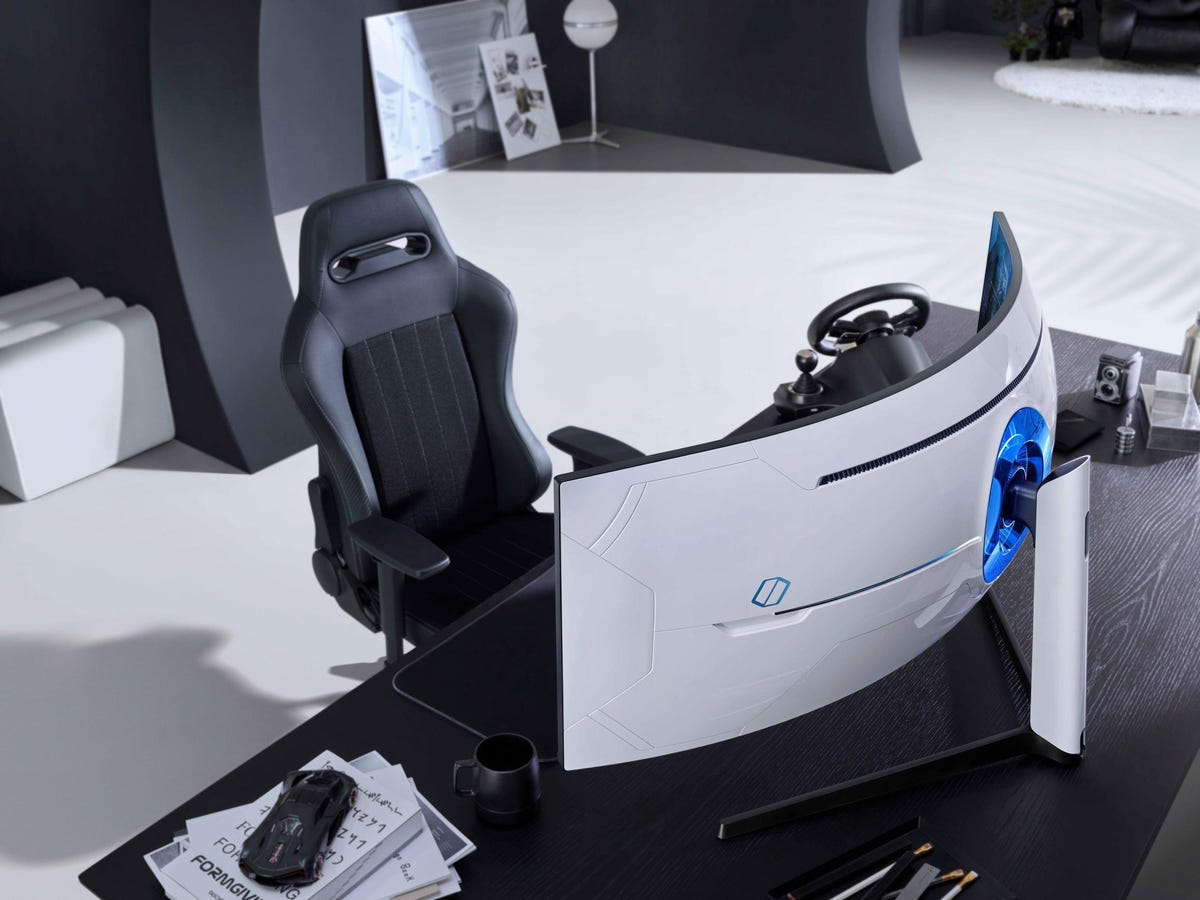 PS5 Games – This Might Be The Ultimate Gaming Display For PC, PS5 And Xbox Series X
A few weeks ago, I reported on Samsung's new bunch of flat-screen monitors that are due this summer, but it seems the growing Odyssey line has more to offer before the hot months are through.
Earlier tonight, Samsung announced a fresh iteration on 2020's Odyssey G9 with 2021's upcoming Odyssey Neo G9. Like it's epic predecessor, the Neo is a beastly 49-inch ultrawide gaming monitor, though this year's entry has some interesting bells and whistles that should have PC (and maybe even console gamers) salivating.
The big deal with the Neo, at least right off the bat, is that it will utilize a Quantum Mini LED display. Samsung claims this is the same tech that's being pioneered by their most recent TVs, the Neo QLEDs. Basically, these are really tiny LEDs (1/40 the size of a regular light emitting diode) and because they're so small, a whole lot of them can be crammed into small areas, supposedly resulting in a better picture.
Combine this with 2,048 local dimming zones via Samsung's included Quantum Matrix Technology, and you've got countless mini LEDs that can be precisely controlled for accurate brightness and contrast. Essentially, more acute differences between light and dark. Speaking of brightness, the Neo's Quantum HDR screen can reach an eye-melting 2,000 nits, so you could probably play this thing from space if you wanted to. That, or fry an egg on it.
Then there's the obligatory RGB lighting system on the back of the unit, but I can't think of many gamers that actually still care about this sort of stuff. If you do, it's here, and it has 52 colors with 5 different lighting options.
A 1000R curvature will likely ensure that when you're gaming on the Neo, it wraps around you like a warm, high-tech blanket. I can speak to the impressiveness of this sort of screen curve, as I tested one of Samsung's pre-Odyssey 49-inch monitors some years back. The immersion is honestly unlike anything else I've tried, except maybe throwing on an Oculus Quest or going back to the 90s and jumping into one of those crude VR arcade arenas. It's actually a bit overwhelming, to be totally honest, but in a very good way.
The Neo will have a 240Hz refresh rate, a 32:9 aspect ratio and Dual Quad High-Definition (DQHD 5,120×1,440 resolution). There will also be two HDMI 2.1 ports (NVIDIA G-SYNC Compatibility and AMD FreeSync Premium Pro) included for connecting demanding systems like the Xbox Series X or PS5.
I think the newer consoles will look incredible on the Neo, though as far as I know, neither machine currently supports any kind of native ultrawide settings. So what you'll probably end up with is a gnarly stretched image, or better yet, an appropriately-sized image that's boxed in with black bars. Hopefully at some point, Sony and Microsoft can patch in support for screens this wide. If not, we can hope that the next hardware iterations will make it so.
At the very least, PC gamers will have a lot to love with the Odyssey Neo G9, and maybe if consoles can catch up in terms of aspect ratios over the next year, this could be the ultimate way to play those machines as well.
Samsung's Odyssey Neo G9 will be available for pre-order starting July 29 for a whopping $2,499.99 and should make it to stores globally by August 9. I'm really hoping I can get my hands on one of these for review and see how everything, from Steam games to Xbox Game Pass, looks on this behemoth.