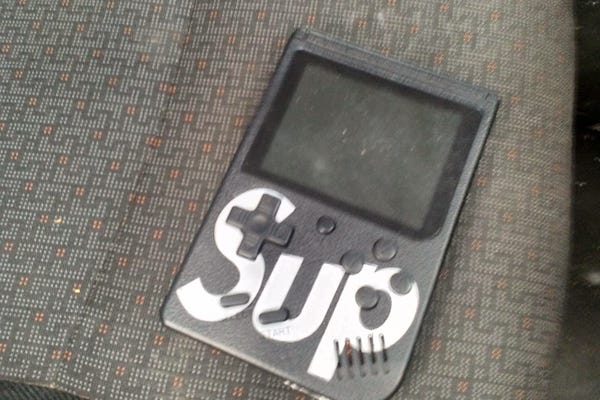 Image via West Yorkshire Police
At first glance, a Nintendo Game Boy doesn't seem like anything out of the ordinary. Sure, it's a nice throwback in terms of handheld gaming, but the most you could do on it is hit a couple of new high scores with some time to spare, right?
But this one in particular isn't really being carried around for the purposes of a nostalgia-fuelled gaming session. Instead, it's the key—literally—to stealing cars.
The Game Boy was used by a trio of car thieves from May through July of this year to fool cars with keyless technology into unlocking themselves, believing that they belonged to the rightful owners. Vehicles stolen were valued at upwards of £180,000 (US$244,500).
According to the West Yorkshire Police, this "gizmo, with the appearance of a Nintendo Game Boy," is worth £20,000 (US$27,200) with the number of modifications that have been done to it. It has the capability of unlocking and starting cars in under one minute.
You might be wondering, with a gadget so inconspicuous, how did they get caught?
Well, they had taken a video on one of their phones, perhaps as a means of flexing the gadget. The video told all: how quickly and easily the car could be unlocked, accompanied by a "mocking" commentary that incriminated the keyless tech as well as the men themselves.
Also, one of the incidents saw them accidentally hit a drainpipe while reversing, which fell onto the car parked behind the target vehicle. This alerted the police, who began an investigation based on the stolen car's details.
The Game Boy was retrieved from a concealed compartment in the suspects' own car, a Ford Galaxy.
"The utter disregard they had for the victims, whose hard-earned vehicles were whisked away in seconds, is totally apparent from the flippant tone heard on the video footage," states Detective Inspector, Vicky Vessey, of the Leeds District Crime Team.
Vessey describes that the police recommends that owners of vehicles with keyless entry and ignition should "take additional security precautions" to prevent future similar incidents from happening. These may include steering locks, driveways posts, or wheel clamps.
[via Gizmodo Australia, image via West Yorkshire Police]