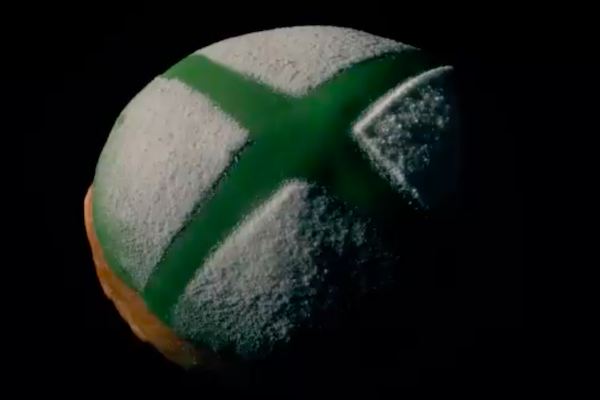 Image via Krispy Kreme
When a product launch involving a gaming company such as Xbox boasts "smooth surfaces and ergonomic form for enhanced enjoyment" in its teaser video, it's pretty safe to say that a fluffy, cream-filled doughnut is not going to be the first thing that comes to mind.
Yet that's exactly what it is: Xbox's "newest drop" is indeed a collaboration with Krispy Kreme: the Nexus Level doughnut. Branded with the familiar green 'X', the sweet treat is part of a new Xbox 20th anniversary promotion in the UK and Ireland starting from August.
The new confections were shown in an amusing video tweeted out by the doughnut company on July 28, welcoming customers "to the next generation." In the short video, some lighthearted fun is had with the team behind the doughnut donning names such as "Xavier Boxell" and bragging about the treat's "revolutionary design" and "ergonomic form;" a satirical homage to traditional product announcements.
Not only the doughnut is up for grabs; consumers who buy a box of the Xbox-branded delicacies stand a chance to win an Xbox Series S, and, if they're a new subscriber, a month of Xbox Game Pass Ultimate. Participants can check their status using the QR code on the boxes.
What more could gamer fuel ask for?
Welcome to the next generation

Introducing… The Nexus Level Doughnut

Coming Soon 👀https://t.co/UVteHkCnjT@xboxuk #KrispyKremeXbox pic.twitter.com/Xf3hRuKybw

— Krispy Kreme UK (@krispykremeUK) July 28, 2021
[via Engadget, image via Krispy Kreme]