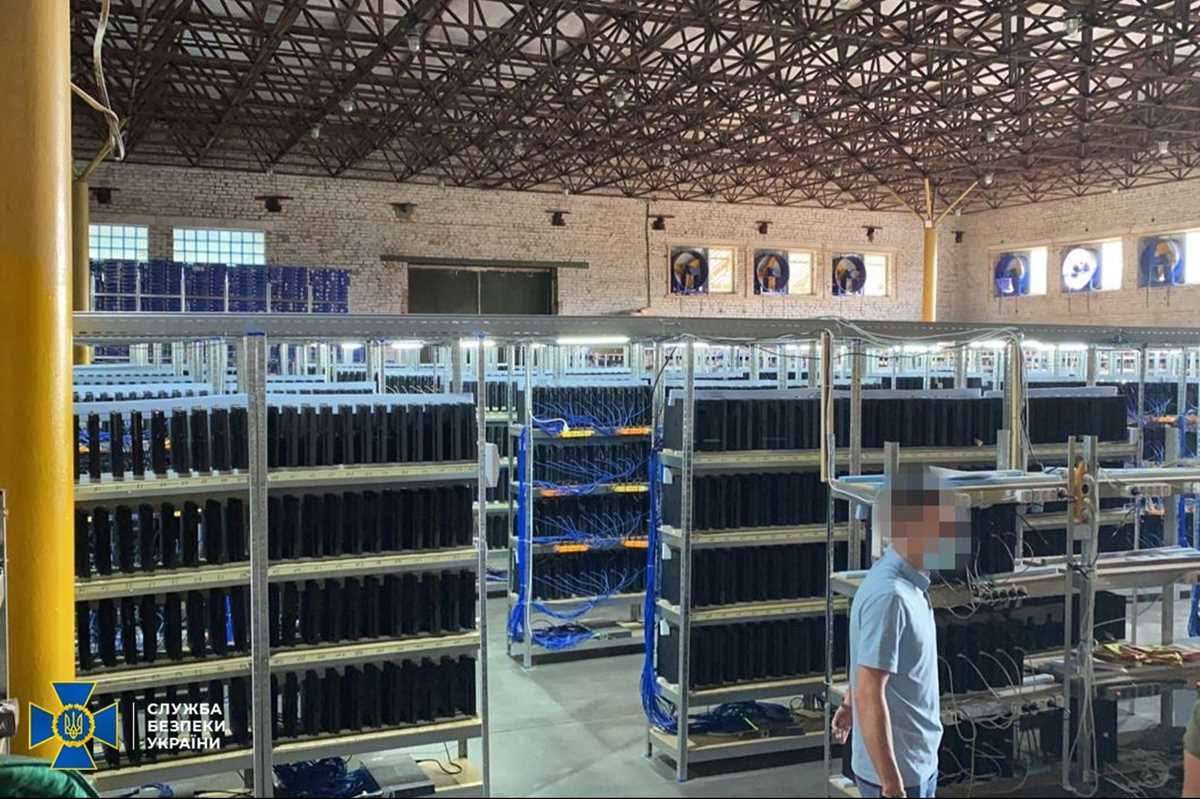 Just a week ago, the Security Service of Ukraine reported that they discovered what looked like a Bitcoin mining farm . However, the investigation revealed that the 3,800 PlayStation 4 (PS4) consoles found at the site were actually programmed to play the FIFA video game automatically. The goal was to earn FIFA Ultimate Team Coins and Cards and then resell them to passionate gamers .
The news went viral and caused a great impact, as the equipment also worked with stolen electricity , avoiding estimated payments of between 186 and 260 thousand dollars per month.
What caused the most stir was the news that Bitcoin or other cryptocurrencies could be mined with a PS4 (or several, in this case). One of those who questioned this information was the local media Delo , where they noticed that in the photos of the report discs are seen coming out of some of the equipment .
On the left you can see discs coming out of some of the 3,800 PlayStation 4 consoles that were mistaken for a Bitcoin mine. Image via Security Service of Ukraine .
(Ad)
As Washington Prepares to hit America with record-setting spending. Worried investors are looking for a way to protect their wealth. Many are looking to invest in gold bars, bullion, and coins. However, this "Backdoor Gold Play" is pumping out twice the returns of gold…
Most of the equipment belonged to the economic version of the PlayStation 4 , called Slim and with power of only 1.84 teraflops, although they do not rule out that there were also others from the Pro version, with 4.2 teraflops of power.
According to specialists, none of these equipment would have sufficient capacity to mine Bitcoin, and if they did, it would not be a significant amount, not even if almost 4 thousand devices are used at the same time.
The same medium points out that the requisitioned PS4s would have been programmed to automatically play the FIFA video game over and over again.
The goal would be to earn in-game coins that could then be exchanged for real money or Ultimate Team cards . These cards are very popular with FIFA fans, and if you get a rare one you can resell it with a good profit margin.
Another quite profitable option in the gamer market is to accumulate enough coins and / or cards to be able to sell the player account in its entirety.
Featured Article: What is the Nikkei 225 index?
7 Tech Stocks That Are Heating Up as Anti-Trust Talk Cools Down
For the better part of the last year, Congress has had "big tech" in its crosshairs. But the reasons why largely depend on what side of the aisle a particular individual was on.
On the one hand, there are politicians who are concerned about the role that technology companies play in restricting the free flow of information. On the other hand, there are politicians that are concerned about these companies' stranglehold on competitors and innovation.
But big tech scored an important, albeit not final, victory in late June. At that time, a U.S. judge dismissed two separate complaints against Facebook (NASDAQ:FB). The question in front of the judge was whether Facebook held a monopoly on social media. Due to a surge in the company's stock price after the ruling, Facebook became a member of the exclusive $1 trillion market cap club.
While big tech companies will remain under the Congressional microscope, there's no denying that investors are looking at the ruling as a signal to rotate back into tech stocks. And that's the focus of this presentation. What tech stocks should you be buying as anti-trust pressure eases?
It would be easy to start and end the list with the FAANG stocks. After all, the motto "Keep it Simple Stupid" comes to mind. There are simply those companies that offer products that are changing our lives now and will continue to do so in the future. And furthermore, customers will continue to pay for their products.
And I do have a couple of these stocks on my list. But the bulk of the stocks on this list are less expensive alternatives to at least one of the FAANG stocks. It doesn't mean they're superior companies, but a rising tide tends to lift all boats. And that means these companies have a large upside and you can purchase the stocks for a lot less.
View the "7 Tech Stocks That Are Heating Up as Anti-Trust Talk Cools Down".