Beyond a Steel Sky will launch on November 30 on PlayStation 4, Xbox One and Switch, as well as Microids and Revolution Software have announced native versions for Xbox Series X | S and PlayStation 5. There will be a limited edition called Beyond a Steel Book which includes a copy of the game, a metal box with art by Dave Gibbons -one of those responsible for the saga-, a soundtrack in digital format and some stickers. We show you the console trailer published by IGN.
Beyond a Steel Sky is a graphic adventure and 3D sequel to Beneath a Steel Sky, a classic of the genre from 1994. Beyond a Steel Sky They were released a little over a year ago on Apple Arcade for iOS devices and shortly after on Windows, Mac and Linux. It was analyzed in Vandal where we conclude that it is "fun to play and explore, without thereby reaching levels of genius" of the original.
"You are Robert Foster. A child has been kidnapped in a brutal attack," says his story. "You have vowed to find him and return him home. But the trail has taken you away from your community of desert dwellers and led you to Union City, one of the few remaining megacities in a world ravaged by devastating wars and political collapse. "
Accompanied by a hacking tool we will be able to solve the puzzles in multiple ways in a world with a cyberpunk thriller story that does not leave aside the doses of humor and reporting issues such as social control, artificial intelligence and the state of total surveillance, all with a setting inspired by the work of cartoonist Dave Gibbons. "Fortified and impenetrable, it is a utopia where people live happily under the surveillance and control of a benign artificial intelligence. But things are not remotely what they seem …".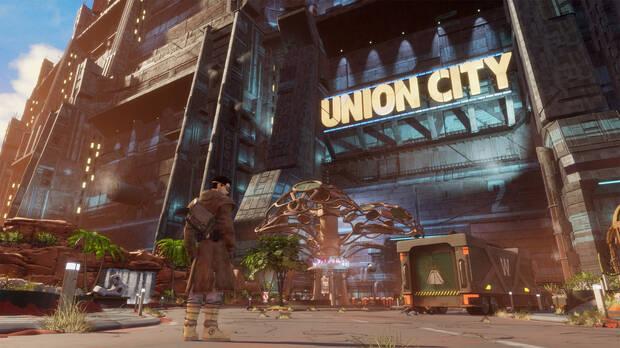 .