Press Release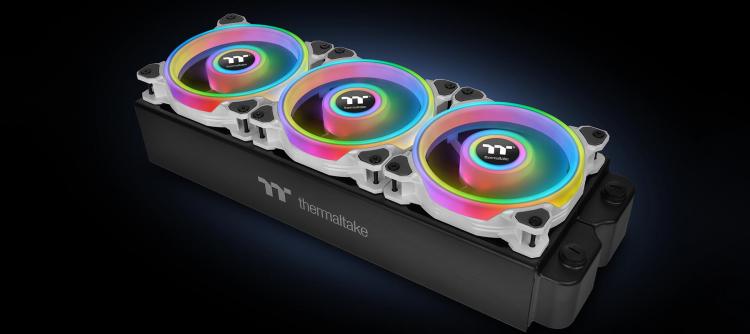 Thermaltake launches the new Riing Quad 12 RGB (120mm) and Riing Quad 14 RGB (140mm) Radiator Fans with NeonMaker Light Editing Software at CES 2020. The new Thermaltake Riing Quad RGB fans feature a 4-ring design with 54 addressable RGB LEDs that are fully programmable using the NeonMaker Light Editing Software or TT RGB PLUS Software. Both software can control up to 20 of Riing Quad RGB Radiator Fans at the same time. The Riing Quad RGB fans work with Amazon Alexa and can Sync with Razer Chroma Lighting as well as Thermaltake AI Voice Control. With a 9-Blade High-Airflow design, the Riing Quad utilizes 120mm and 140mm high-static pressure blade design, long-life hydraulic bearing and a PWM controlled motor to deliver remarkable acoustic and cooling performance to elevate the aesthetics of custom PC build.
Combined the inner and outer light loops contain 54 LEDs, the Thermaltake Riing Quad RGB fans can deliver detailed and colorful lighting effects that will impress from any angle. High-Airflow 9 Fan Blade allows stronger flow, while the hydraulic bearing provides a sustainable and silent operation. There are 16 unique lighting effects and 4 lighting effect speeds available using the TT RGB PLUS Software. Both the Riing Quad 12 RGB and Riing Quad 14 RGB are available in black and white colours.
Thermaltake Riing Quad RGB Fan Specifications
Thermaltake NeonMaker Light Editing Software
The NeonMaker Light Editing Software is a new advanced approach for adjusting RGB colors and effects on Riing Quad and offers a 16.8 million color palette with a multifunction panel. It allows users to choose from over 200 different lighting effects and access to further customizable lighting options such as variation timelines and the direction of lighting cycles. The software also allow users to save, load, and share lighting setup with other users.
Pricing and Availability
The Thermaltake Riing Quad 12 RGB and Riing Quad 14 RGB radiator fans are available for purchase in late January 2020. Sold in a 3-pack bundle, $149.99 for the 3-pack Riing Quad 12 RGB fans and $159.99 for the 3-pack Riing Quad 14 RGB fans.