A number of Arab intellectuals, writers and academics who attended the Abu Dhabi International Book Fair in its 31st session confirmed that the Dean of Arabic Literature, Dr. Taha Hussein, a thinker and encyclopedic critic, identified himself in critical approaches with Abu Al-Ala Al -Maarri and it was as if he was pronouncing his name.
This happened in a session entitled "Taha Hussein, a Critic and Thinker" held within the activities of the 31st Abu Dhabi International Book Fair, where Hassan Nazim, Minister of Culture, Tourism and Iraqi Antiquities, Dr. Mohsen Al-Moussawi, Professor of Arabic and Comparative Studies at Columbia University – New York, and the Bahraini author and researcher Dr. Hassan participated. Modon, Dr. Diaa Al-Kaabi, Associate Professor of Narrative and Modern Literary Criticism, at the College of Arts, University of Bahrain, and Dr. Ahmed Al-Saeed, founder and CEO of the House of Wisdom Group for Cultural Industries, and moderated by journalist Dr. Najm Abdul Karim.
The session was attended by Saqr Ghobash, Chairman of the Federal National Council, Ambassador Dr. Muzaffar Mustafa Al-Jubouri, Iraq's Permanent Representative to the International Renewable Energy Agency (IRENA), Dr. Ali bin Tamim, president of the Abu Dhabi Center for the Arabic Language, a number of official and cultural figures, and a crowd of journalists and media professionals.
The Iraqi Minister of Culture, Tourism and Antiquities opened the session with a research paper in which he referred to Taha Hussein's literary status and genius, which led the Arabic language to new ways in his style that arouse reflection, and explained that the Dean of Arabic Literature is a master of modern prose and a unique insight into modernization and renewal, and helped rethink the heritage of Arab culture.
Dr. Mohsen Al-Moussawi said: "The issue of Taha Hussein's defense of the few educated people whom he described as living their dreams and drowning them in their days has always occupied them. He is a literary and critical stature and he wanted educated leaders to be able to lead society in one way or another. "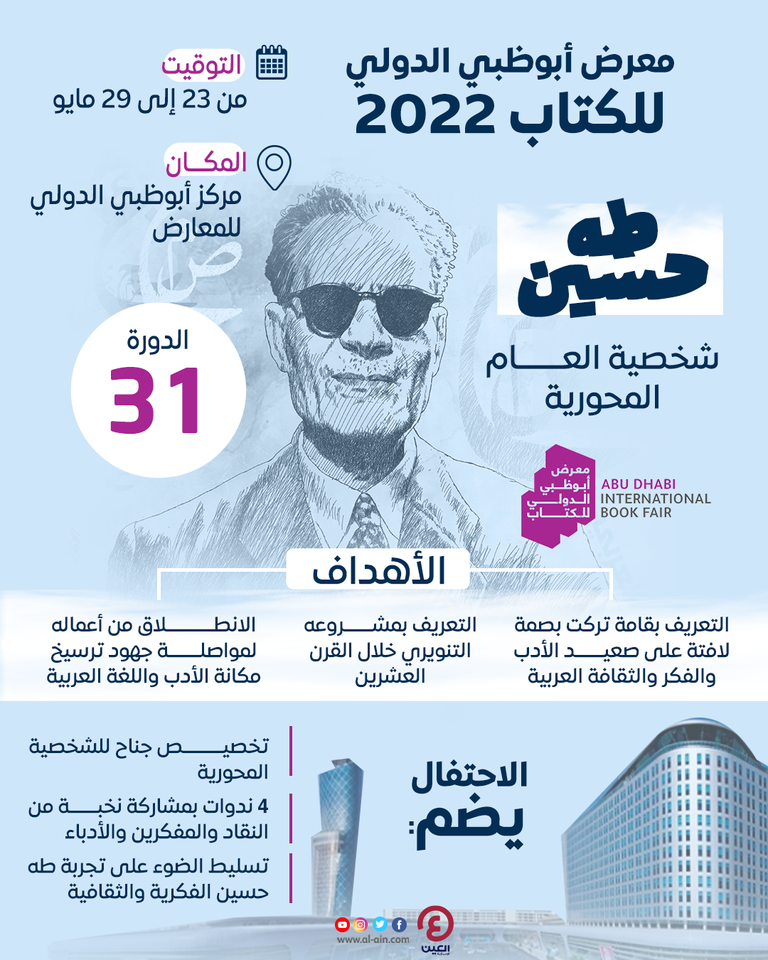 Dr. Hassan Modon said: "Taha Hussein drew basic features of an intellectual and literary roadmap that we need as Arabs. It is an Arab project that pertains to the whole of Arab culture. Here we gather in Abu Dhabi as Arabs and discuss its significance. as a great literary figure.What it takes to elevate and enhance our cultural reality is to read Taha Hussein, We touch on the essence of what he left behind of literature, and develop our tools, for he was dean of Arabic literature extensively in all and his literary, intellectual and philosophical projects covered many aspects of life.
Dr. Dia Al-Kaabi said in her post: "We are not just talking about a passing critic, but rather a founder and an inspirer, a stature that possessed depth of thought and foresight, and there is a connection between the dean of literature and Abu. Al-Ala Al-Maarri, who identified himself in critical approaches with him, and it was as if he spoke his name, as it can be said that Taha Hussein The last of oral communicators, when he considered blindness to be the greatest metaphor in his life, and that is what we see in his critical discourses, as opposed to the insight that we read implicitly in many of his writings.
Dr. Ahmed Al-Saeed ended the session by saying, "The echo of Taha Hussein's literature reached China, and the great Chinese thinkers and writers were interested in it. Novels are published in his honor in honor of the Dean of Arabic Literature for the Blind. and master's dissertations dealing with this character, and a number of articles were written about him. cultures.