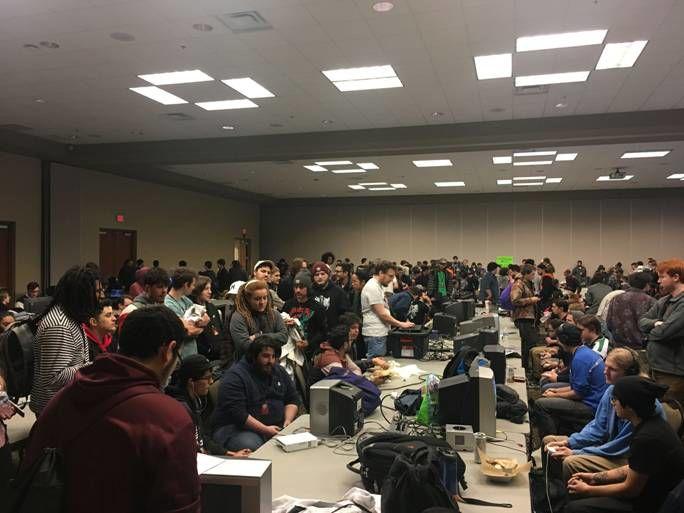 Hundreds of gamers from across the country flocked to the Brazos County Expo on Saturday to face off in competitive battles playing as Pikachu, Super Mario, Zelda or Donkey Kong for the third — and possibly last — "No Fun Allowed" video game tournament.
Playing in single or team brackets on various iterations of Nintendo's Super Smash Bros. games, players gathered around dozens of television sets, some on equipment and gaming systems brought from home or on screens provided by the event's organizers. For an entry fee of $10 per bracket, players were able to engage for the entire day.
No Fun Allowed was created in 2017 by a few local residents — including Texas A&M eSports team members — who wanted to bring a good gaming tournament to Brazos County.
"We've kind of just been fundraising," said co-creator Paul Ogdee, who recently graduated from Texas A&M, where he served as eSports club president. "We asked our parents for donations, and we've paid it back. In the past we've come back [financially] in the black and in the green, and it is sustainable. … [Super Smash Bros.] is a really grassroots community. It's really easy as an organizer to host something of this scale if you have the support behind you. I wanted to host the next Evo [Championship Series]; that has been my dream."
Ogdee suggested that this year would probably be the closing year for this event, as it's hosted primarily by senior-level college students soon to leave the area. Fellow event organizer and Texas A&M senior Lauren Salinas did note that attendance has grown exponentially in its three years. Attendees flocked not just from central and southeast Texas, but from states including New Jersey, Michigan, Colorado and California.
"I feel like the [Super Smash Bros.] community is more open than with other fighting games," Salinas said. "It's such a large roster of characters that it's easy for a lot of people to enjoy it."
Several avid Super Smash Bros. players who have achieved a high status in the international gaming community were present in Bryan. Matthew Fitzpatrick, a 20-year-old Californian player who goes by the online handle "Elegant," was last ranked as 25th in the world for 2018's Super Smash Bros. Ultimate.
"It's easier to talk to people in this scene than in high school, I think," he said. "We have a lot of common interests."
The tournament served as a time to bond for one father-son duo from Arlington. Ramiro Aguirre Sr., a union IBEW electrician, sat at a table against the wall with his 16-year-old son, Vincent, while gamers approached the two with their broken controllers. The teen would accept $10 from each individual before cracking open the controller and whipping out his screwdriver and soldering iron.
Vincent and his dad both share a love for electronics and an enjoyment for video games, so they thought they'd use No Fun Allowed to test-drive offering their services for repairing malfunctioning game controllers. The elder Aguirre only had to sit back and watch, however, as his son did all the work with capacitors and jumper wires.
By mid-afternoon Saturday, Vincent Aguirre already had fixed seven to eight controllers.
"I'm proud," his father said. "I didn't think he was in demand, but nobody has [our services] here. There isn't anybody around here to fix controllers, when the players need that at the moment. If the controller doesn't work, they'd have to go home, but [Vincent] fixes it in a jiffy."
The day of gaming concluded at around midnight, with cash prizes rewarded to a select few tournament winners.