Sony (SONY) opens the internal M.2 SSD expansion function of the console game console PlayStation 5 (PS5).
At the time of PS5 development, Sony designed it to allow additional storage expansion through M.
Competitor Microsoft's Xbox Series X|S cooperated with Seagate to support expansion of a proprietary external SSD that can be easily plugged into the back of the console, but Sony's PS5 expansion method is better for gamers because of its high price-to-capacity ratio. have been evaluated
However, PS5's M.2 SSD support required PCIe 4.0 interface, high read/write performance, and heat control ability, which were not yet popular at the time when PCIe 3.0 x4 speed SSDs were mainstream. Only expansion using USB-C external storage was supported.
Sony is announcing that an update to enable the internal M.2 SSD expansion is available to PS5 system software beta program participants, M.2 SSD requirements for this, installation and uninstallation methods, and added M.2 SSD storage How to install games and apps, etc.
According to Sony, the M.2 SSD that can be used with the PS5 console is a PCIe Gen4 x4 M.2 NVMe SSD with capacities from 250GB to 4TB, sequential read speeds of over 5,500MB/s, and a form factor equivalent to the M.2 standard. It supports 22mm width and 2230, 2242, 2260, 2280 and 22110 length.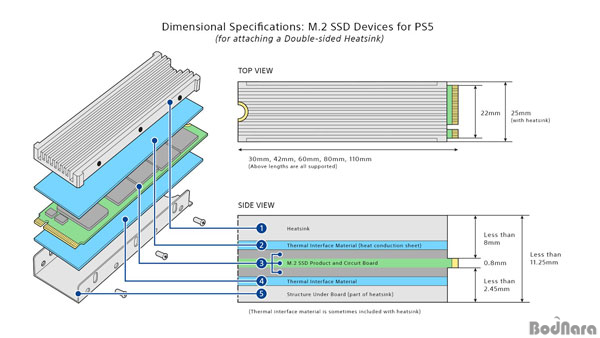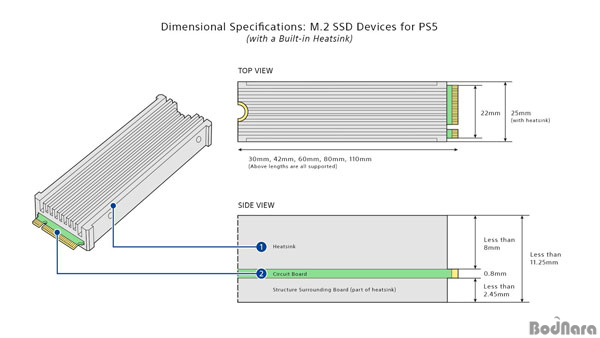 However, to use an M.2 SSD with a PS5 console, effective heat dissipation is required with a cooling structure such as a heat sink (heat sink). must be less than mm. In other words, the width of the PCIe 4.0 x4 NVMe M.2 SSD including the heat sink is 25mm and the height is 11.25mm.
M.2 SSDs support both single-sided and double-sided, but non-PCIe NVMe M.2 SATA SSDs are not.
However, Sony says that even with sequential read speeds faster than 5,500 MB/s on M. We cannot guarantee that M.2 SSD devices will work on the console and are not responsible for their selection, performance or use.
In addition, if a problem occurs while playing a game installed on the M.2 SSD storage, it is advised to move the game to the internal high-speed storage to play.