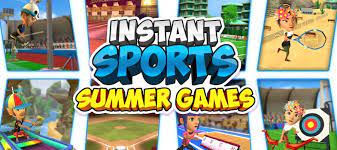 New York, NY (Top40 Charts) BreakFirst, PID Games and Just For Games are thrilled to reveal the first trailer of INSTANT SPORTS Paradise, the new refreshment from the INSTANT SPORTS series. Enjoy a Paradise Island and palm trees, but be wary, there's no time to be twiddling your thumbs.
In this new trailer, you will discover beautiful, peaceful lands and, above it all, loads of thrilling sports awaiting you: https://youtu.be/RNVeAfcNwOk
INSTANT SPORTS Paradise is coming to Nintendo Switch, and on Xbox One and Playstation 4 as the first INSTANT SPORTS released on these platforms. A physical edition published by Just For Games will also be available on Nintendo Switch. Both digital and physical editions release Summer 2021.
Features:
INSTANT SPORTS Paradise makes the sun shine bright on your workouts! Travel to the other side of the planet and enjoy a 1 to 4 local players experience, all on your cosy couch.
Explore an open world: INSTANT SPORTS Paradise takes place in an Oasis full of history and mysteries. Blue lagoon, palm trees and hot sand… There's a lot of secrets to discover between two workouts.
Cooperation & Competition: Play with or versus your friends. Challenge your own scores and break your limits.
9 Summer Sports: Have fun and give the best of yourself on exhilarating sports like: Jetski, Seaplane, Bowling, Football, Ping-pong and much more.
Enjoy your Holidays: Be a real tourist, enjoy seaside chill activities which will be revealed in the upcoming weeks.
Unlock all kinds of character customization items: Leave your hotel with your favourite clothes. Surprise islanders and your friends with fun and astonishing outfits! Have you ever seen Santa Claus at the beach?
More information: https://www.justforgames.com/product/instant-sports-paradise/
Trailer: https://youtu.be/RNVeAfcNwOk
BreafFirst Games: https://www.breakfirst.games/
Release Date: Summer 2021
Platforms: Nintendo Switch, Xbox One, Playstation 4
Range: Sports, Party-Game
Developer: BreakFirst Games
Publisher: PID Games (Digital Edition)
Just for Games (Physical Edition)
Breakfirst is a French studio from Lyon. Founded in 2009 by Benoît Auguin, the studio focuses its activities into motion gaming, bringing video games to real life. They worked last year on INSTANT SPORTS on Nintendo Switch which was a big success in retail and they're now working on the new iteration of the brand "INSTANT" with INSTANT SPORTS Paradise!
PID Games is the new publishing label created by Plug In Digital. We publish games on all platforms such as Ghost of a Tale, Paper Beast, or Alba: A Wildlife Adventure.
Started in 2012, Plug In Digital is one of the largest independent video game distributors. We help studios and publishers distributing and increasing their sales worldwide on PC, Consoles and Mobile.
Founded in 2011 by Philippe Cohen, JUST FOR GAMES is a major video game distribution company in France originally addressing retail. Our team is based in Saint-Ouen (93).
In 2019, Just For Games has started its own publishing activity in both retail & digital with games like LASTFIGHT, Super Kickers League and few more in 2020…