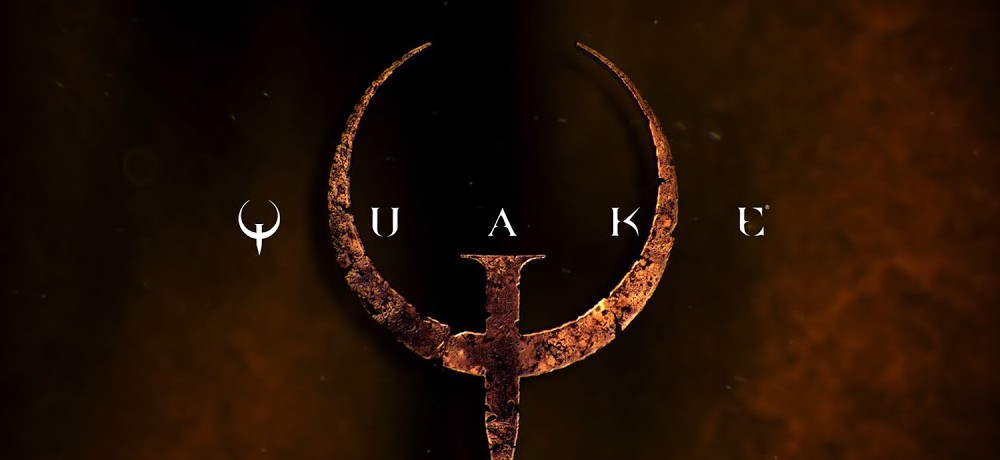 QUAKE Enhanced Trailer: "Announced today during QuakeCon at Home, in celebration of 25 years since the release of the dark fantasy first-person shooter, an enhanced version of the original Quake is available today on PC, Xbox One, Xbox Game Pass for console and PC, PS4, Nintendo Switch, and backward compatible on Xbox Series X|S and PlayStation 5. Native Xbox Series X|S and PS5 versions bringing native 4K at 120 FPS will be available soon as a free upgrade.
The Original Quake, Enhanced
Experience the authentic, updated, and visually enhanced version of the original Quake.
Featuring resolutions up to 4K and widescreen resolution support, enhanced models, dynamic and color lightning, anti-aliasing, depth of field, and the original soundtrack and theme song by Trent Reznor. There has never been a better time to relive or experience Quake for the first time.
Online, Cross-play, & Local Multiplayer and CO-OP
Fight through the dark fantasy base campaign and expansions in 4-player online or local split-screen co-op, and compete in pure, retro-style combat with support for 8-player (online) or 4-player (local split-screen) matches. Featuring cross-play between all platforms and dedicated server support for online matchmaking and peer-to-peer support for custom matches.
Original and New Expansions Included
Quake also comes with both original expansion packs: "The Scourge of Armagon" and "Dissolution of Eternity," as well as two expansions developed by the award-winning team at MachineGames: "Dimension of the Past," and the all-new "Dimension of the Machine."
The enhanced version of the original Quake is available now. Players who already own Quake on Steam and Bethesda.net will receive this enhanced update for free. For much more on the re-release of Quake, visit bethesda.net."
———-
MARTYRS LANE Trailer: "In this unsettling ghost story, Leah, 10, lives in a large, old house with her family but can't quite work out why her mother seems so distant. At night she is visited by a mysterious guest, who might be able to give her some answers. With a new challenge every night, Leah is rewarded with bits of knowledge that, when pieced together, threaten to shine a dangerous light on both the truth in her nightmares and of the world she lives in.
Written and directed by Ruth Platt, and expanded from her 2019 short film by the same name, MARTYRS LANE is a deeply personal film that explores love and grief through a dark and captivating ghost story.
Lead impressively by young actors Kiera Thompson and Sienna Sayer, the main cast is rounded out by Denise Gough (who will be seen in the upcoming Game of Thrones prequel series), Steven Cree (OUTLAW/KING, BRAVE), Hannah Rae (Broadchurch, FIGHTING WITH MY FAMILY), and Anastasia Hille (THE ABANDONED).
MARTYRS LANE is produced by Christine Alderson and Katie Hodgkin for Ipso Facto Productions and developed and financed by the BFI, Lipsync, and Sharp House.
Ahead of its Shudder launch, MARTYRS LANE will World Premiere August 19th as part of the 2021 Fantasia International Film Festival and celebrate its UK Premiere August 20th with the Edinburgh International Film Festival."
——-
George Romero and Daniel Kraus's THE LIVING DEAD (9/7) now coming in Paperback: "George A. Romero invented the modern zombie with Night of the Living Dead, creating the monster that has become a key part of pop culture. Romero often felt hemmed in by the constraints of filmmaking. To tell the story of the rise of the zombies and the fall of humanity the way it should be told, Romero turned to fiction. Unfortunately, when he died, the story was incomplete.
Enter Daniel Kraus, co-author, with Guillermo del Toro, of the New York Times bestseller The Shape of Water (based on the same idea the two created for the Academy Award-winning movie) and Trollhunters (which became an Emmy Award-winning series), and author of many other books of horror and suspense for all ages. A lifelong Romero fan, Kraus was honored to be asked, by Romero's widow, to complete THE LIVING DEAD (Available for the first time in Trade Paperback; Nightfire; On-sale: September 7, 2021).
Set in the present day, THE LIVING DEAD is an entirely new tale, the story of the zombie plague as George A. Romero wanted to tell it. Combining his extensive knowledge of Romero's longtime themes and the filmmaker's partial manuscript with prodigious research and his own talent and creativity, Daniel Kraus has created, in THE LIVING DEAD, the ultimate gift to Romero
and horror fans. It is a sprawling, action-packed work of epic scale, and Kraus and Romero have crafted compelling characters for readers to follow through a startlingly relatable global pandemic. Survivors must fight back not just against the monsters, but against mob-militia brutality, which ultimately turns against a peaceful march — a scene 50 years in the making with its roots in the finale of Night of the Living Dead. The novel's timeliness is uncanny, but then again, Romero always managed to be timely."
Learn more at: https://us.macmillan.com/books/9781250305121