All Star Gaming from Incredible Connection and Mettlestate have partnered to "give back to the community this weekend."
The FIFA 21 charity tournament will be hosted on Saturday 18 September from 16h00. On the line will be a total of R20,000 cash for two charities.
Four of South Africa's best FIFA 21 players will compete in two showmatches. The winner of the PlayStation and Xbox match will each secure R10,000 for their charity of choice.
The four players competing for their charities on Saturday are:
Xbox
Aasim "Boredm84223" Lamara (Islamic Relief SA)
vs
Kaylan "KaylanYT" Moodley (TBA)
PlayStation
Deevak "DawieRoodt" Dhanjee (Hope and Help Foundation)
vs
Riaasat "REEbrahimovic" Ebrahim (Gift of the Givers)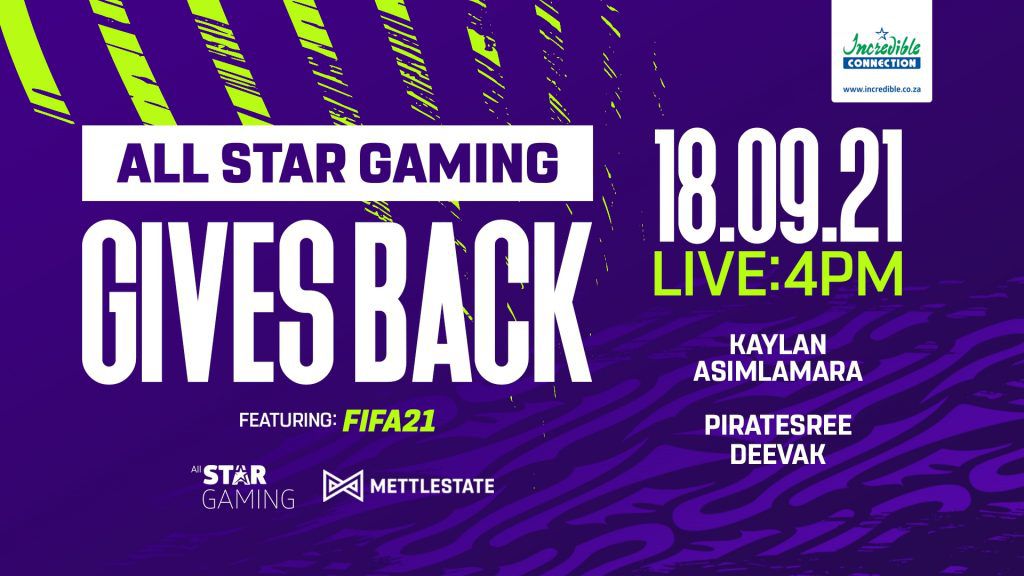 The charity event will be casted and presented by Sam "TechGirl" Wright and Sean "Snare" Rihlamvu, with the action live on the Incredible Connection All Star Gaming Twitch channel. The stream will be available from 16h00 to 19h00 on 18 September 2021.
We suggest tuning in and catching the action… You will be supporting some great charities, and there are "FOUR great prizes up for grabs." So set a reminder today.
Header image via EA.